With cars and motorbikes being blamed more for contributing to environmental pollution, many people turn to bike as a means of commuting to work and for working out. Why not get yourself a road bike and enjoy the low-impact but effective workout? You can read our best cheap road bike reviews to find yourself a suitable one. Before you can enjoy the benefits of bike riding, it is essential to stay safe first.
Here are some useful pointers to help you stay safe on sound on the road:
Wear a helmet
This is a basic but essential protection for both experienced and new beginner cyclists. Head injuries related to biking occur very frequently and there can be very serious traumatic brain injuries and deaths. One simple way to avoid potential death and injuries is by wearing a helmet which is highly affordable cheap and widely available.
When it comes to head protection, it is best to spend a little more for a good helmet. Cheap helmets do a poorer job in withstanding the impact in an accident. The product must pass standards set out by the Consumer Product Safety Commission
Whatever helmet you choose, expensive or cheap, it must fit you properly. Choose the right size with snuggle-fit strap and make sure you feel comfortable when wearing the helmet. It should not be too lightweight or heavy. Try at least several helmets before you make your decision. You can shake your head to see if the strap is off.
Choose the right bike
When you choose a bike that is too small, too big or too high for you, you are in trouble. With such a bike, your speed and safety are compromised. Imagine yourself riding a bike in which you can barely reach the pedals or find it hard to control the handlebar: surely you should avoid such scenario.
There are cases when you get a good bike but it is poorly adjusted for you. Get a professional bike fit if you want to make sure the bike fits your well. How much will the bike be adjusted depend on each person's specific case but generally adjustments are made about seat height, handlebar position, stem length and cleat. You may need to come back after a year or two when there are some changes in your body conditions (injuries, weight gain/loss, for example) or when you get a new bike.
Make sure the bike is ready for using.
Before you take your bike out on the road, give it a quick check. Are the tired well-inflated? Does the chain give weird sounds? Are the saddle and handlebar properly adjusted? Do the brakes work?
Keeping your bike in good conditions will help it last for many years and ensure your safety too. There are not a lot to do in maintaining a bike; you just need to take care of it on a periodical basis.
Obey traffic rules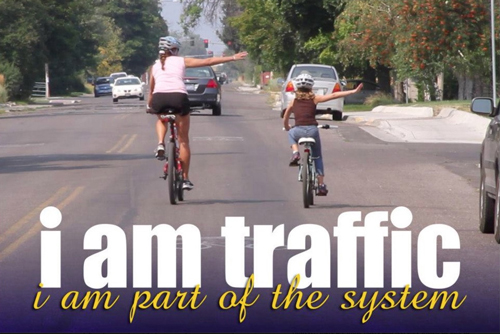 While you are on the road, you need to be responsible not just for yourself but people who engage in traffic also. Do not attempt to cross the red light or ride against traffic and stop and stop lights. If you try to ride on the wrong side of the road, you can easily get hit by cars or motorbikes.
Make yourself be seen
Wear bright colors if possible: this can help other people notice you even from afar, especially at night or early in the morning. There should be reflectors on your bike; they will come on very handy in low-light situations. Use horns to alert people too.
Use eye contact and hand signal
You obey traffic rules but others may not. You can signal them by your hands and making eye contacts so that they know when to stop and let you get through.
Stay alert
Anything can happen on the road so it never hurts to be careful all the time. Watch out for coming vehicles and any obstacles on the road, especially when you ride at night or on unfamiliar, uneven road. Being able to recognize road hazards is necessary.
Stay on your lane
You should ride on designated bike paths and stay away from sidewalks because of the risks to yourself and pedestrians.
Always be ready to brake with both hands
Braking with one hand only can be less effective: you may not be able to stop on time like you want. This proves to be essential in wet, rainy conditions.
Stay focused
You lose focus even for just one second and it can cost your life. Listening to music can distract you from hearing horn sounds or shouting from other people so it is best to leave then at home. And it goes without saying that talking on the phone while you are riding is dangerous too.
Nick Soros has been tried many different road bikes and become an cycling enthusiast for a 10 years. He collected many top and affordable road bikes on the market that can help you choose the most suitable one. They're basing your budget as well as your demand. So it would be useful if you check his informative advice before give your final decision. Not only for first riders, but experienced ones.